Posted by Janet Richards Chasse on Mar 17th 2021
I haven't added to the blog in 14 months. You all know why, 2020 was such a discombobulated time for all of us. Also, Moosehead Marketplace was busy. It was a combination of more people shopping online, and people wanting to support small businesses. I thank you for that, many of our makers did not have their usual outlets of craft fairs, and some who had store fronts were closed. Christmas was a blur, but that was also welcome, since like so many, we couldn't be with family so it helped pass the time.
But enough of the past! It's a spring like day here in Greenville, warm and sunny. I've been shoveling off the flower beds, I see the crocuses starting to peek through. I've also been getting more organized all spring with the Marketplace, picking up and listing new products. It hasn't been crazy busy, but steady enough to pay the bills. Some of the new products are leather purses and bags, infused maple syrup, new signs, and sweet little whittled gnomes, to name a few. I will continue to find new products, many of our customers are repeat customers and I want to keep it fun and interesting.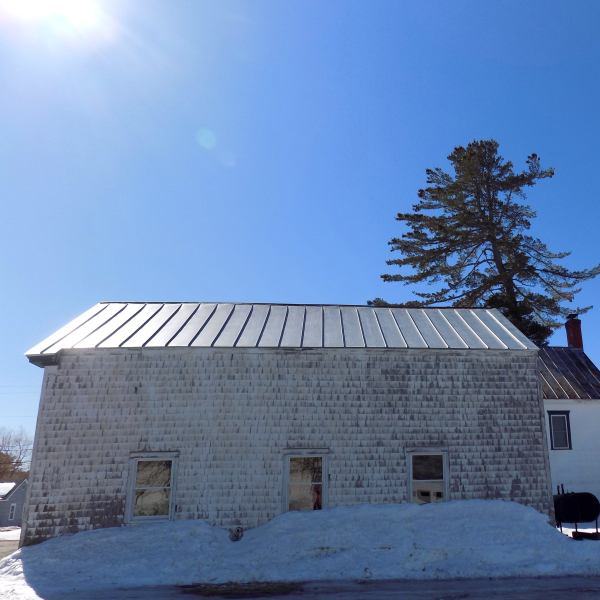 This is the back of Moosehead Marketplace on this gorgeous day. It's a barn attached to our house, built 166 years ago. When we moved here 33 years ago, we were only the fifth family to have lived here. The barn was still a barn, with the look of when it housed their carriage and horses. It still even had the "two seater" in there. We had the barn jacked up, put in a frost wall, windows, and a new roof on this north side. The south side had already been done in metal about 90 years ago, although rusty, it's still solid. We operated a child care center in the barn and house for 40 kids, for about 15 years. Then it sat empty until 6 years ago, when Moosehead Marketplace was born.
I truly appreciate all the support I've had with this endeavor. It really has helped local makers and crafters, and it's kept me busy. I'm still growing the business, who knows, maybe one of my kids will move back to town some day and take over. I'm still having fun.
I hope for all of you reading this, 2020 is in your rear view mirror too. Many have suffered, and it's ironic, that while the rest of the country is finding it's feet, Greenville is actually a "hotspot" for covid right now. I have faith it'll fade away though, and am looking forward to a summer with family and friends again. I wish that for you too.